November 14th, 2023 – Vancouver, B.C. – Reflex Advanced Materials Corp. (CSE: RFLX), (OTCQB:RFLXF), (FSE:HF2) ("Reflex" or the "Company"), announced the completion of the Company's 2023 Phase One drill program (the "Program") at its Ruby Graphite Project (the "Project") near Dillon, Montana in a recent news release dated October 24, 2023. The Property is road accessible and is situated 22km southeast of Dillon. The program's impressive efficiencies allowed the Company to complete 24 holes from 8 drill pads, with a total length of 3391m giving an average depth of 141 meters.  The Company would like to provide supplemental information and correct certain inaccuracies announced in the previous news release.
Drill Program Highlights:
A total of 24 diamond drill holes were completed, totaling 3391m for the inaugural HQ-size drill program on the Property;
Average drilling depth was only 141m due to presence of graphitic carbon (Cg) mineralization at surface and in shallow historical workings in the drill target area;
First-pass drilling tested an extended conductivity anomaly along an east-northeast striking marble, with plans to follow up on the areas that return the best Cg grades;
Graphite mineralization was found in every completed hole, ranging from 10's of meters of disseminated graphite flake to multiple veins of graphite, with individual veins typically 1 to 5-cm in zones up to 30-cm thick (assays pending); and
Drilling and surface mapping also confirmed the extension of the marble and calc silicate units that may represent a source of carbon to the west of where they had been previously recognized and into the area above the historical workings.
The geologic team provided by Childs Geoscience Inc. (CGI) has completed detailed descriptive logging and photography of the core, and is proceeding with an analysis program that includes the following:
The entire lengths of mineralized intervals will be split and sampled;
Samples will be analyzed by ALS Laboratory with complete results expected in Q1 2024;
As part of the assaying protocol, multi-element analysis will also be initiated to test the geochemical association of the Cg mineralization; and
Carbon isotope and related studies are being pursued to better understand the origin and exploration footprint of the mineralization.
The holes were generally drilled in a vertical-fan arrangement with inclinations of 45°, 60°, 75° or 90° from horizontal.  All holes were surveyed to determine azimuth and inclination.  The acquired data allows the team to better understand the structural trends for targeting in future drill programs.  Figure 1 shows the orientation of holes drilled across the target area, typically with 2 to 3 holes per pad and up to 5 holes near the existing mine workings.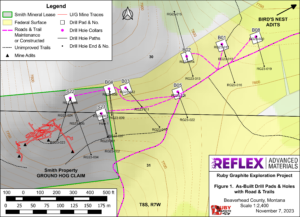 Figure 1: Map of Ruby Graphite Project with Drill Hole placements
The drilling proceeded from the existing Ground Hog mine workings along a northeast trend toward the Bird's Nest graphite mines.  The S21, B04 and B03 drill pads showed the best and most consistent visual mineralization.  The host rock is a sequence of marble, calc silicate, gneiss and schist, with lesser pegmatite and amphibolite.
The drilling program was designed to test one of the several conductivity anomalies identified during the Company's GEM-2 and IP geophysical surveys conducted during 2022 (see March 2, 2023 news release), plus a heliborne TDEM survey flown earlier in the 2023 exploration season (see June 20th, 2023 news release) and a more recent MaxMin survey conducted by Big Sky Geophysics.
Figure 2 presents a photograph of one of the visibly richest graphite-bearing intervals from drill hole RG23‑010.  Note the centimeters-thick vein graphite as well as a mottled-appearing zone which is thought to be 'clotty' graphite likely resulting from biotite or possible garnet replacement.  There is also abundant disseminated flake graphite observed throughout this core.  This is an example of the three most common types of mineralization within a 3m interval.
Note that the general descriptions presented here are based on geologist's visual observations and all assays are still pending.  Figure 2 shows some of the best observed mineralization; other holes or drill pads show less visible mineralization.
All mineralized sections of core are currently being sawed in half, and one half will be sent to ALS analytical laboratory for determination of graphite content, specific gravity, and multi-element analysis of selected intervals.  Due to the late start of the 2023 drilling program, it is unlikely that analytical results will be returned before Q1 2024.  Concurrently, the drill data, surface geologic mapping, geophysical surveys and limited information available from the historical Ground Hog workings are being used to create a 3D model, and ultimately a preliminary assessment of the quantity of graphite.  However, an NI 43‑101 compliant resource estimate is not expected from this maiden drilling phase of the project.
The technical information contained in this news release has been reviewed and approved by Greg Bell, P.Eng., General Manager of the Ruby Graphite Project, who is not independent of the issuer, and Dr. John Childs, R.Geo., President and Senior Geologist at Childs Geoscience Inc., who is independent of the issuer.  Both individuals are "Qualified Persons" as defined in National Instrument 43‑101 – Standards of Disclosure for Mineral Projects.
For more information on Reflex Advanced Materials Corp and its mineral projects, please visit the Company's website at www.reflexmaterials.com.
Corporate Presentation
Visit the Reflex Advanced Materials homepage or click on the following URL to view the Company's Corporate Presentation: 
https://reflexmaterials.com/wp-content/uploads/2023/06/RFLX-Corporate-Presentation-v15-appendix-added-21st-June-2023-Web.pdf
ON BEHALF OF THE BOARD OF DIRECTORS,
Paul Gorman
CEO & Director
Reflex Advanced Materials Corp
info@reflexmaterials.com
Tel. (778-837-7191)
Suite 915-700 West Pender Street
Vancouver, BC V6C 1G8
Canada
About Reflex Advanced Materials
Reflex Advanced Materials Corp. is a mineral exploration company based in British Columbia. Its objective is to locate and, if warranted, develop economic mineral properties in the strategic metals and advanced materials space.  It is focused on improving domestic specialty mineral infrastructure efficiencies to meet surging national demand by North American manufacturers.  The Company is working to advance its Ruby Graphite Project, located in Beaverhead County, Montana, and ZigZag Lake Lithium Property, located in Thunder Bay Mining Division, Crescent Lake Area, Ontario.
For more information, please review the Company's filings available at www.sedar.com.
Forward-Looking Statements
This news release contains certain forward-looking statements within the meaning of applicable securities laws. The use of any of the words "could", "intend", "expect", "believe", "will", "projected", "estimated" and similar expressions and statements are intended to identify forward-looking statements and are based on the Company's current beliefs or assumptions as to the outcome and timing of such future events. All statements that are not historical facts, including without limitation, statements regarding future estimates, plans, programs, forecasts, projections, objectives, assumptions, expectations or beliefs of future performance, such as statements regarding: future exploration work that the Company intends to complete on the Project and the timing and results thereof, including the Project; and the Company's belief that the past production at the Project is indicative of graphite mineralization at the Project.
These forward-looking statements reflect the expectations or beliefs of management of the Company based on certain key expectations and assumptions made by the Company, including expectations and assumptions concerning: that past production at the Project is indicative of graphite mineralization at the Project; and the nature, timing and results of future exploration work by the Company on the Project, including the Program.
Although forward-looking statements are based on the reasonable assumptions of the Company's management, there can be no assurance that any forward-looking statement will prove to be accurate. By their nature, such forward-looking statements are subject to a number of risks and uncertainties which could cause the actual results, performance or achievements to differ materially from the anticipated results, performance or achievements expressed or implied by the forward-looking statements. These risks and uncertainties include, but are not limited to, risks inherent in the exploration and development of mineral deposits, including risks relating to changes in project parameters or delays as plans continue to be redefined, that the Company may not receive the necessary permits or approvals to conduct the desired exploration work (on the timeline or terms expected by the Company, or at all), that mineral exploration is inherently uncertain and that the results of mineral exploration may not be indicative of the actual geology or mineralization of a project; that mineral exploration may be unsuccessful or fail to achieve the results anticipated by the Company; and those risks and uncertainties detailed from time to time in filings made by the Company with securities regulatory authorities. These factors should be considered carefully, and readers are cautioned not to place undue reliance on such forward-looking statements. The forward-looking statements and information contained in this news release are made as of the date hereof and the Company undertakes no obligation to update or revise any forward-looking statements or information, whether as a result of new information, future events or otherwise, unless so required by applicable securities laws. The Canadian Securities Exchange has not reviewed, approved or disapproved the contents of this press release, and does not accept responsibility for the adequacy or accuracy of this release.