March 2, 2023 – Vancouver, B.C. – Reflex Advanced Materials Corp. (CSE: RFLX)  (OTCQB:RFLXF), (FSE:HF2) ("Reflex" or the "Company") is pleased to announce the filing of a technical report (the "Report") prepared in accordance with National Instrument 43-101 Standards of Disclosure for Mineral Projects ("NI 43-101") on the Company's Ruby Graphite Project (the "Project").  The Report summarizes the discovery of several exploration targets throughout the Project that coincide with historic showings and sit in new areas, based on previous work and the mapping, geophysical, and field sampling efforts performed in 2022.  The Report will be posted under the Company's profile on www.sedar.com.
The Ruby Graphite Project is located in Beaverhead County, Montana, U.S.A.  The Company secured an option to acquire 100% ownership of the Project in September of 2022 (see news releases dated September 20, 2022 and October 12, 2022).
Reflex commissioned Ethos Geological ("Ethos") of Bozeman, Montana to perform field work during 2022, with the objective of identifying potential graphite-bearing areas and developing a geological model of the stratigraphy and structure.
As discussed in a news release dated January 6, 2023,  Ethos performed the following studies:
Detailed geological inspection;
Sampling of the various rock types at 25 locations and with chemical fingerprinting to support lithology and structure mapping;
Soil survey, taking 201 samples at 25-m spacing along three lines and with measurements of pH and geochemistry for identification of lithology changes across the property;
Detailed photogrammetry and elevation modeling conducted with an unmanned aerial vehicle (UAV or drone);
Using a GEM-2 Ski by Geophex Ltd., a multifrequency electromagnetic (EM) handheld survey tool, acquired 100 line-km of surface EM data at 200-m spacing; and
Contracted KLM Geoscience LLC to conduct an Induced Potential (IP) survey along three lines, each 1600-m long at 50-m spacing, for identifying potential graphite-bearing intervals by locating electrically conductive bodies.
As a result of this work, Ethos concluded in the Report that the geology, comprised of interbedded gneiss and marble, was derived from an ancient sedimentary marine sequence of muds, silts and carbonates which was then buried and highly metamorphosed to create graphite-bearing horizons.  Ethos also concludes in the Report that the previously mined Ruby Graphite Project holds significant potential for discovery and future exploration success evident by the following (see Figure 1):
Electrical conductors and chargeable zones coincide with known graphite rich horizons (Figure 2), and exist in new areas previously unidentified;
The primary target (Saddle Trend) extends for approximately 1 km along strike NE-SW from the historic Ground Hog to Bird's Nest mines, which hosts the potential for graphite at depth and along trend;
Additional targets sit adjacent to the Saddle trend (Van Camp, Cabin, and Timber trends)
Paul Gorman, CEO of Reflex Advanced Materials, commented, "Last year's exploration identified multiple targets across the Project area, providing proof of concept for graphite potential extending below and beyond previously-identified areas on the Ruby Graphite mineral holdings. This work provides incentive for proceeding with our initial drilling program in the summer of 2023 to begin testing the grade and extent of the graphite mineralization."
The Project is located at the southwest portion of the Ruby mountains in southwestern Montana, approximately 14 miles (22 km) southeast of the town of Dillon, Montana.  The Ruby Graphite Project area is 1,945 acres (787 hectares) and includes 96 lode mining claims.
The Ruby Graphite property encompasses a previously mined natural graphite horizon operated by the Crystal Graphite Company from 1901 until 1948, having produced more than 2,000 metric tonnes of vein graphite.  A fire consumed the small concentration mill and part of the mining camp around 1950, and the location was abandoned and mostly forgotten.  Reflex plans to pursue aggressive exploration with the intent of supporting a resurrection of the graphite production as the only currently operating natural graphite mine in the U.S.
Figure 1.  Map of Ruby Graphite Project showing new targets and IP lines.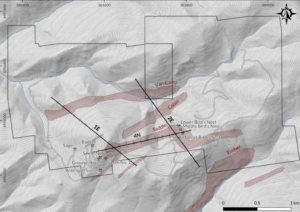 Figure 2.  Line 4N IP resistivity and chargeability showing zones of anomalous conductivity and chargeability, both to be tested in 2023.

Qualified Persons
Greg Bell, P.E., Reflex General Manager, and Scott Close, P.Geo., President of Ethos Geological, qualified persons under the NI 43-101 Instrument, have reviewed and approved the technical content of this release.
About Reflex Advanced Materials
Reflex Advanced Materials Corp. is a mineral exploration company based in British Columbia. Its objective is to locate and, if warranted, develop economic mineral properties in the strategic metals and advanced materials space. It is focused on improving domestic specialty mineral infrastructure efficiencies to meet surging national demand by North American manufacturers. The Company is working to advance its Ruby Graphite Project, located in Beaverhead County, Montana, and ZigZag Lake Lithium Property, located in Thunder Bay Mining Division, Crescent Lake Area, Ontario.
For more information, please review the Company's filings available at www.sedar.com.
Forward-Looking Statements
This news release contains certain forward-looking statements within the meaning of applicable securities laws.  All statements that are not historical facts, including without limitation, statements regarding future estimates, plans, programs, forecasts, projections, objectives, assumptions, expectations or beliefs of future performance, including statements regarding the exercise of the Ruby Option and the Company's intentions regarding the Ruby Graphite Project are "forward-looking statements."  These forward-looking statements reflect the expectations or beliefs of management of the Company based on certain key expectations and assumptions made by the Company, including expectations and assumptions concerning the business plan of the Company, the successful integration of the Ruby Graphite project into the Company's operations, the application of regulatory and licensing requirements, and the availability of capital, labour and services.
By its nature, such forward-looking statements are subject to a number of risks and uncertainties which could cause the actual results and expectations to differ materially from the anticipated results and expectations expressed.  These risks and uncertainties include, but are not limited to, fluctuations in commodity prices, changes in industry regulations and political landscape in Canada and the United States, stock market volatility, and those risks and uncertainties detailed from time to time in filings made by the Company with securities regulatory authorities.  These factors should be considered carefully, and readers are cautioned not to place undue reliance on such forward-looking statements.  The forward-looking statements and information contained in this news release are made as of the date hereof and the Company undertakes no obligation to update publicly or revise any forward-looking statements or information, whether as a result of new information, future events or otherwise, unless so required by applicable securities laws.
Contact Information:
Paul Gorman
Director and CEO
Telephone: 416 768 6101